Miss, wie buchstabiert man Zukunft?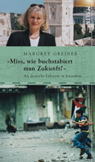 Margret Greiner: Miss, wie buchstabiert man Zukunft?
Als deutsche Lehrerin in Jerusalem

Margret Greiner lebt im israelischen Teil von Jerusalem und unterrichtet als Deutschlehrerin an einer palästinensischen Schule in Ostjerusalem. Jeden Tag sieht sie, wie zerrissen die Stadt ihrer Träume ist, und nie war es schwerer zu sagen, zu welcher Seite sie gehört.
Greiner describes the situation (as it is commonly called) as an observer without taking sides. The book reflects more or less exactly my experiences and memories from Israel. Except that nobody there behaved reserved to me in any way for being German (or for any other reason), while Greiner mentioned one or two such incidents.
Recommended reading. Unfortunately, the book seems to be available in German only.