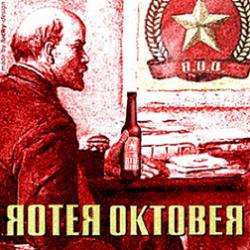 Yesterday, we went to Cologne to eat out at HoteLux, a Soviet restaurant/cocktailbar.
Much fun was had! Part of the place looks like a Moscow Subway train, the room we were dining in was largely painted red with soviet motives, Russian music playing in the background, thirty different kinds of Vodka, and Kwas for me (I drank better ones, though, it was a little watery).
Oh, and we were served by a very helpful waitress (Oy, this is going to burn, better eat some pickles..., referring to the Vodka). After several rounds she also started to stop by and asked whether the drinkers were still doing fine.