Random Bits about New York which you won't find in a Travel Guide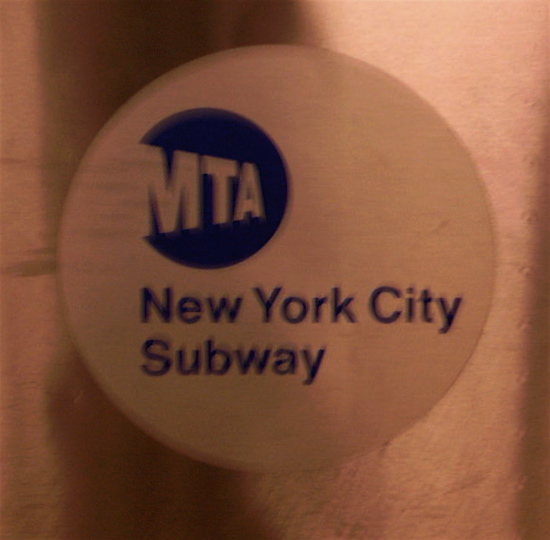 Did you know?
The Big Apple prefers Apple (and so does Irina)! Every other person you see on the streets or in the subway is wearing the iPod's trademark white ear buds (and if not, then perhaps because they exchanged them for Bose TriPort in-ear headphones which are advertised all over NYC.)
Otherwise, if you are not carrying a takeaway coffee in one hand and pressing a cell phone against your ear with the other, you are likely a tourist.
New Yorkers repair their streets with duct tape?! (Photo proof unfortunately lost.)
New Yorkers generally seem to prefer to have too much, and then some more (example courtesy of Katz's Deli).
In slightly related news, the number of obese people (and the average age) in New York sharply increases near the Newark Airport (EWR) gate where people are embarking to Fort Lauderdale, FL. In New York City itself I have hardly seen any, and those few looked like tourists.
Celebrities we ran into: Two NBA players (gosh, I am not a dwarf but BOY ARE THEY TALL!), Charlie Rose, Barbara Walters, Russel Simmons, and some more who looked all important and I had no clue who they were.
Oh and for a relaxing NYC experience, Yours Truly recommends:
Having a stroll through Central Park, preferably during the early evening on a day with nice weather.
Playing chess in the Village Chess Shop (Greenwich Village).
Stumbling upon some of the oddball art galleries and exhibitions in SoHo.
Eating out at a random place after walking through East Village and Lower East Side.
Raking a (mini) Karesansui in one of Chinatown's many shops. If you do it with enough determination, be prepared that other customers will be starting a conversation with you... ;)
Buying tickets for an (off-)Broadway show from tkts (avoid the waiting queues at Times Square by going to the lesser known office in Lower Manhattan), for example I Love You, You're Perfect... Now Change! (which is hilarious!) Remember to check about shows you might like beforehand. The ticket office provides no information at all, just titles.
p.s.: Many thanks to Greta for hosting us in Manhattan despite PLDI deadline pressure!